Biological Safety Cabinet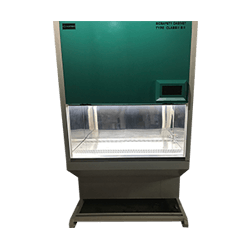 These are designed to use simultaneous primary biological and chemical containment. The recirculation of cabinet air throuh a second HEPA folter offers highest level of cleanliness.
The Bio safety cabinets are made with good quality water proof marine plywood, outer surface are covered with laminated sheet, all the interior joints are sealed with good quality adhesives, and made the cabinet leak proof. All the internal surfaces are painted with synthetic rubber paint, made termite proof and weather resistant.
Air Flow: vertical CLASS I
Cleanliness class 100 with an efficiency 99.9%
Particle retension 0.3 microns and above.
HEPA filter quality compliance to FED : STD : 209 E and EN 779.
Pre filter quality compliance to IS 7613.
The includes standard accessories like static pressure manometer, HEPA filter for cabinet (deep pleat type), pre filter, one UV germicidal light for the word area, one cock for gas/air. Satin finished stainless steel perforated table top. Suitable motor with blower assimbly for air supply, suiable motor with blower assembly for exhaust, 2 mtrs lingth PVC pipe of 6" dia will be supplied for exhaust air vent out.
Cat No.
Working table size
L X W X H in cm
Approx. external
dimension in cm
RBSC - 2
60 X 60 X 60
66 X 75 X 230
RBSC - 3
90 X 60 X 60
96 X 75 X 230
RBSC - 4
120 X 60 X 60
126 X 75 X 230
RBSC - 5
150 X 60 X 60
156 X 75 X 230
RBSC - 6
180 X 60 X 60
185 X 75 X 230